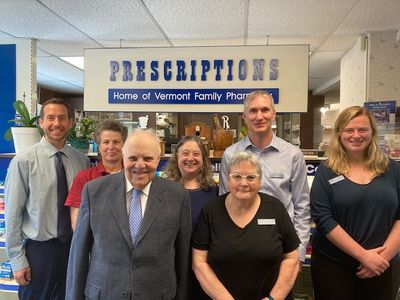 Vermont Family Pharmacy was opened in December of 1983 by Manny Chernoff. In 1996, Manny brought his daughter, Lynne Vezina, into the pharmacy full time. Manny and Lynne both graduated from Massachusetts College of Pharmacy.
Vermont Family Pharmacy has always concentrated on incredible customer service. Patients are often amazed at the wonderful, personalized service they receive from the staff. Our pharmacists take the time to explain new medications to patients, and our software can perform a cross-check for drug interactions. We accept most insurance plans including most Medicare D plans. We take Master Card, Visa, Discover and American Express credit cards. We also take HSA and FSA cards.
In March of 1989, we began an affiliation with Prescription Compounding Centers of America. We are a full compounding pharmacy. We are happy to make any custom compound for a patient. Just have your doctor phone in a prescription. Some insurance plans cover compound reimbursement, so be sure to let us know which plan you have!
We have always had a supply of wound care items. We offer many dressings in single packages to prevent you from having to buy a big box that you don't need. We have over 12 different kinds of bandaging tape, including Duoderm, Tegaderm, Mepilex and Mepitel dressings.
Vermont Family Pharmacy also stocks home health care items. We have wheelchairs, walkers, crutches, raised toilet seats, commodes, pillows, foot insoles & orthotics, urinals, shower supplies (including grab bars for the bathroom), bath seats and bath benches. Many of our items are available to rent or purchase. We can also special order items for next-day pickup.
We carry Nature's Truth vitamins and essential oils.
Our staff at the store has over 50 years of combined experience!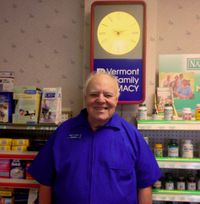 Manny Chernoff
Manny Chernoff is the original owner who lived in the New North End since 1971 before moving to Williston a couple of years ago. Manny graduated from Massachusetts College of Pharmacy in 1956. Manny and Joan welcomed daughter Lynne in 1960 and son Robert in 1961. Manny was very excited to have opened up the pharmacy in 1983. He has worked very hard to make it the pharmacy it now is. His current joys in life are Cribbage and Barbecues at Lynne's house.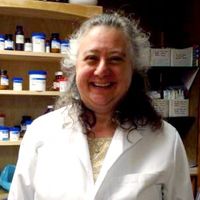 Lynne Chernoff Vezina
Lynne Chernoff Vezina came into Vermont Family Pharmacy full time in 1996. Lynne grew up in the new north end, going to Thayer, Lyman C. Hunt and graduating from Burlington High. Lynne graduated from Massachusetts College of Pharmacy in 1983. Lynne does our compounding, specializing in Bio-Identical hormones.
Lynne got married in 1984 and she and her husband are enjoying the game of golf. Lynne also is involved in a Mahj Jongg Club, playing whenever the opportunity arises. Lynne is a Board Member of the Vermont Pharmacist's Association.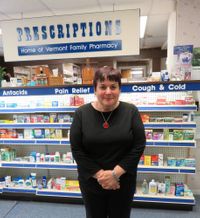 Joanne Lesage
Joanne is a Certified Pharmacy Technician working part-time for us since 2015. Joanne grew up in Winooski. She came to us from an area hospital where she worked in nutrition services.
She specializes in Durable Medical Equipment including canes, crutches, and walkers.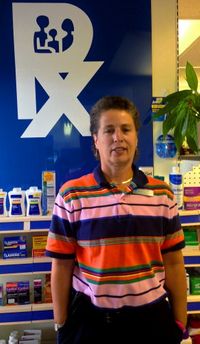 Sandy Pecor
Sandy Pecor takes care of all of our paperwork. Sandy grew up in the New North End, going to Flynn, Lyman C. Hunt and Burlington High. Sandy has been the administrative assistant for 12 years.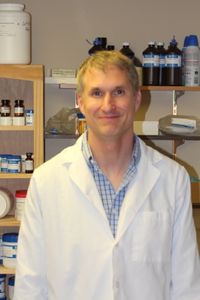 Matt O'Connor
Matthew O'Connor started here in July 2019; he graduated in 1997 from Dalhousie College of Pharmacy in Halifax, NS, Canada. He comes to us with a wide range of experiences including community, hospital, and even information pharmacy; he was a successful pharmacy manger for 10 years before his twins were born. He chose to make a career pivot to coincide with his new passion: "the boys".
He grew up in Canada, but has lived in Vermont for 15 years, residing in Winooski. Prescription Compounding has become his new focus and he relieves Lynne on the front bench one day per week.
Hiking, swimming, fixing things and his boys are his hobbies; someday there will be a return to golf, skiing & snowboarding, and travel.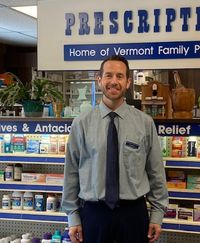 Matthew Sicotte
Matthew Sicotte is originally from Derby Vermont and graduated from the University of Connecticut in 2004 with his Doctorate of Pharmacy. He has spent the last 18 years working as a community pharmacist in Franklin County. Matthew came to us looking for a new challenge and will primarily be focused on compounding prescriptions.
In his spare time Matthew is usually training for his next marathon or enjoying a good old-fashioned daddy/daughter day.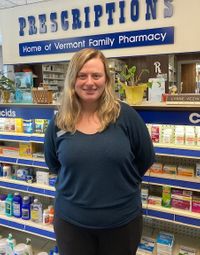 Lauren Trombley
Lauren is a new Pharmacy Technician to Vermont Family Pharmacy. She started her pharmacy career at South Hero Pharmacy. Lauren grew up in South Hero and graduated from South Burlington High School. She is now living in the New North End of Burlington and very excited to join the community. In her spare times she enjoys swimming, skiing and cooking.